Registration begins soon, so don't delay and clear that hold to ensure a timely and successful registration process.
While not all items in the Holds & Alerts will prevent you from registering for classes, it's best to review your student record now so you can take action. If you have a hold on your account in SF State Gateway, below is information on how to determine between a registration blocking hold and a non-registration blocking hold and the steps to take to clear them. You do not need to remove a hold that doesn't block registration.
How do I know if I have a Hold or Alert?
Items posted in the Holds & Alerts box can be notifications, reminders, or confirmations. To see if you have a Hold or Alert and why, do the following:
If the Holds & Alerts message window says No Holds, then there are no holds to lookup.
The details link is present when the Holds & Alerts window has items.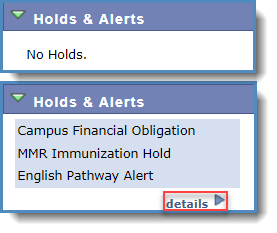 Under the Hold Item column, click the Hold Name.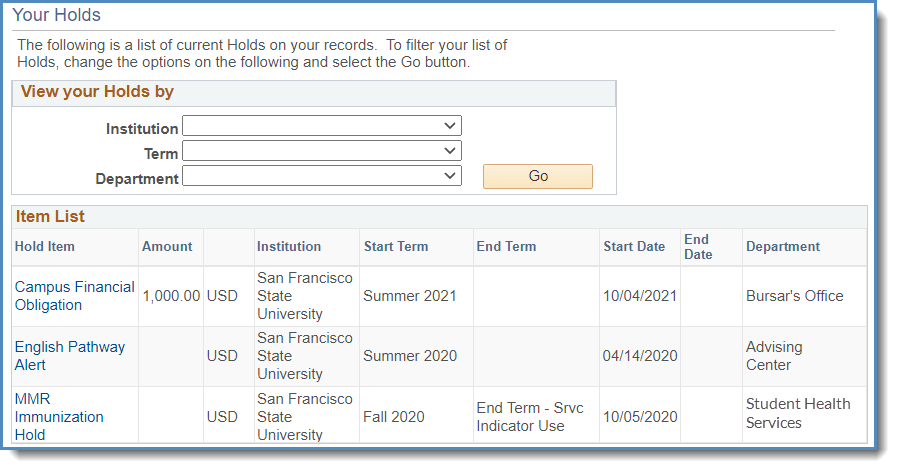 Clicking each hold name will show contacts, information about the hold, and further instructions on how to remove the hold. Again, not all items in the Holds & Alerts will prevent you from registering for classes, and this will be indicated in this section. You do not need to remove a hold that doesn't block registration.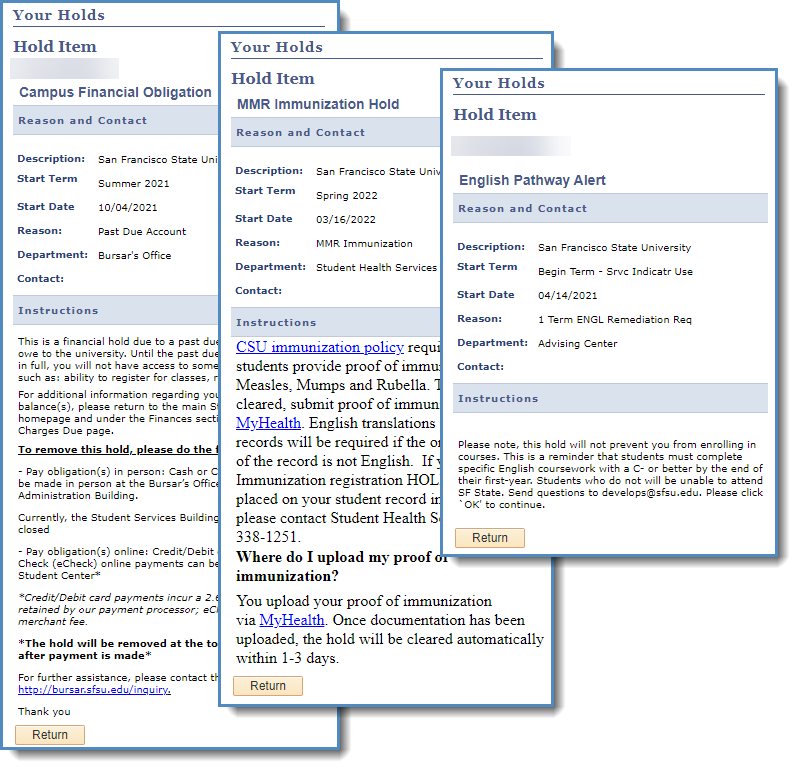 COMMON HOLDS THAT MAY IMPACT REGISTRATION

Common Holds
Why You Have the Hold
How to Resolve Hold
Who to Contact for More Information
Campus Financial Obligation (SFO) -Past Due Account
When there is any past-due balance outstanding on your account.  For tuition and mandatory local fees, if payment is not posted on your account on time, the consequences include the possibility of being dropped from all of your classes, a late registration fee of $25, an administrative fee of $20, and prevents enrollment and/or receiving other campus services.
Make payments online by electronic check (NO fee) or credit card (MasterCard, VISA, and American Express) through SF State Gateway. By paying the past due obligation in full, the hold will be released by midnight. 

For complex issues and/or to avoid phone wait time, a service ticket is recommended: Service Ticket

Bursar: bursar.sfsu.edu

International Health Insure Hold
No insurance on file. International students and scholars are required to purchase SF State's pre-approved insurance plan offered by Risk Strategies in order to satisfy the CSU insurance requirement.
F-1 International students must purchase SF State-sponsored health insurance. 
Office of International Programs: oip.sfsu.edu/healthinsurance
College or Major Advising
Advising Holds are placed on Engineering students and are required to do advising to have the hold removed.
Click on your advisor's link to schedule an appointment. 
School of Engineering: engineering.sfsu.edu/spring-2023-advising
Academic Probation Holds
Students who remain on academic probation beyond one semester will have a probation hold placed on their records that will prevent their future registration. If it is a student's first semester on academic probation, they will not have a registration hold but are strongly encouraged to meet with an academic advisor.
Meet with an academic advisor. 
Undergraduate Advising Center: advising.sfsu.edu/
Final Transcript
The Office of Undergraduate Admission is missing your final official transcript(s) with coursework completed at all previous institutions. 
Log in to your SF Gateway-Student Center and check your To Do List. To be official, all transcripts must come directly from your school through secure electronic transmission or by mail.
SF State Gateway: gateway.sfsu.edu
Submitting Transcripts: future.sfsu.edu/submitting-transcripts-and-geadt-certification
Office of Undergraduate Admission and Recruitment Email: ugadmit@sfsu.edu
The Registrar's Office is here to support you. Please see below for additional resources and support.