Students registering for classes need to complete several key actions in order to maintain their registration eligibility. The following information provides details on important items that need to be completed as well as important dates and deadlines. Also included is information on generating a class schedule in preparation for registration.
San Francisco State University offers academic advising to help students plan their academic careers and make the most of their time on campus.
Undergraduate
Undergraduate Advising offers the following advice to undergraduate students:
GE/Graduation Review Advising - Helps students with general education requirements
Undeclared Majoring - Helps students explore different majors
Special Major Advising - For students creating their own major
Academic Notice (formerly Academic Probation) Advising - Advising for students whose cumulative GPAs have fallen below 2.0 (C) and are subject to disqualification
Readmission Advising - Deals with students who have been readmitted to the university after an absence
In addition to general undergraduate advising, undergraduate students with declared majors may be subject to undergraduate major advising. Undergraduate major advisers focus only on the curriculum of the student's major and serve to guide students in completing the requisites for their majors. Students are assigned major advisers through their academic department. For more information on major advising or to find out if your department offers major advisers, contact the department.
Graduate
The following advising options are offered to graduate and/or potential graduate students:
Program Exploration
Graduate school application support
Career exploration
Student forms
Academic Notice (formerly Academic Probation) guidance and support
Advising is offered by appointment only for graduate students. Please visit the Graduate Studies Advising page for further details.
Degree Planning - Degree Progress Report
Each student has a Degree Progress Report (DPR) that details the requirements necessary for completing their degree. In the DPR, students will find their General Education Requirements, University Requirements, and Major Program Requirements (which may be missing until Campus Solutions implementation is completed).
Students can access their DPR by going to their Student Center and clicking on the My Academics link in the Academics section.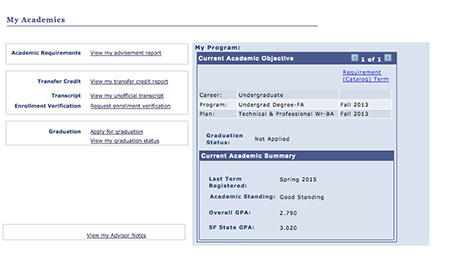 Academic Requirements - Available to active students in an undergraduate degree-seeking program. CEL students and Post-baccalaureate students do not have a DPR.
Transfer Credit - Lists credit students earned from a previous college/program that was transferred over to SF State
Transcript - Allows students to view a report of their unofficial and previously requested transcripts
Enrollment Verification - Provides an enrollment verification that can be printed
Graduation - Allows students to change how their name will appear on their diploma and update their address (accessible after the paper application status has been completed)
Adviser Notes - Students can view notes from their adviser
Requirement (Catalog) Term - Details student requirements for the current term
Current Academic Objective - Details students' career, program, plan, graduation status, and requirement catalog term
Current Academic Summary - Lists students' last term registered, academic standing, overall GPA, and SF State GPA
There are a number of important dates and deadlines students need to be aware of. Missing a deadline may result in delayed graduation. Items students should pay particular attention to include:
University and department application deadlines
Priority registration date
Freshman/Transfer Orientation registration deadline
Payment due dates
Drop/Withdraw dates
Graduation application deadline
Use the following links to review dates for the current semester. Be aware that some departments may have extra requirements and deadlines. Contact your department for further information.
There are 24 different types of holds that may prevent registration for classes. Students who have holds (noted on the Student Center main page) should visit the Registrar's Office Registration/Holds page to identify the type of hold and the steps for resolution.
Academic notice occurs when a student's grade falls below the minimum GPA of 2.0 (C). Students who are placed on academic notice will be required to take additional steps to continue their education at SF State. More information is available on the Registrar's Office Academic notice page.
The Gator Scheduler is the way to plan a class schedule. Having a schedule ready before registration will simplify the registration process. The Gator Scheduler allows students to create class schedules based on their specific class requirements, availability, and preferred class locations. For instructions on how to use the Gator Scheduler, please visit Using the Gator Scheduler.
SF State offers an in-depth search tool for finding classes. The tool is publicly available via the SF State home page by selecting Quicklinks > Class Schedule > Class Schedule or via the Student Center by clicking SEARCH FOR CLASSES (top right).
In the Term drop-down box, select the correct term
In the Class Search section, select or enter at least 2 items:

Session: Select the session type for the class (CEL classes - leave blank, Spring and Fall regular university classes - select Academic Regular Session)
Subject: Select course subject
Course Number: If the course number is known, select is exactly and enter the exact course number in the provided text box. For GWAR classes, select contains and enter GW in the provided text box
Course Career: Select undergraduate, graduate/post-baccalaureate, or extended education (CEL)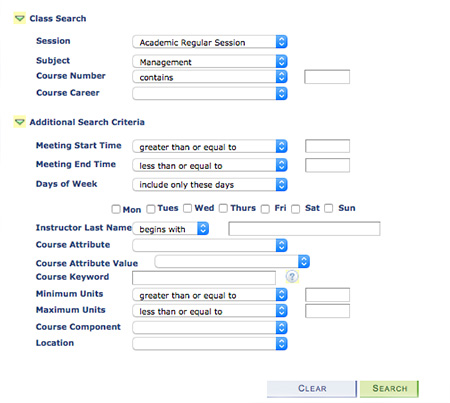 3. If desired, refine your search using Additional Search Criteria
4. Click SEARCH to generate the search results
If your search returns more than 50 results, you will be prompted to continue. Click OK
If your search returns more than 300 results, you will have to go back and refine your search
5. View the status of the class (far right) in the Status column
Green circle - Class is open (open seats)
Blue square - Class is closed (seats filled, waitlist filled)
Yellow triangle - Class is full but a waitlist is open
6. Click on the Class/Course number (far left) to view details of a particular class (e.g., enrollment requirements and open seats)
7. To return back to your search results, click the VIEW SEARCH RESULTS button at the bottom
Note: Do not use your browser's back button; it will not take you back to the previous page
8. To conduct a new search click the NEW SEARCH button9
9. To modify your search click the MODIFY SEARCH button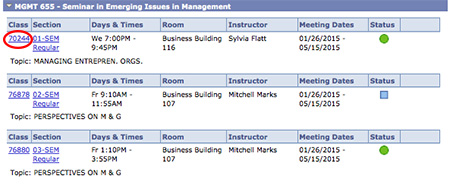 Shopping Cart
The Shopping Cart is a way to assemble a list of potential classes before registration time. Having a class in your shopping cart does not mean that you are enrolled in that class or that a seat will be held for you. However, it can make enrolling in a class easier when the time comes.
When searching via the Student Center (not available for public searches), you can add a class to your shopping cart by clicking the select button associated with a particular class.

You can view your shopping cart at any time:
Log into the Student Center
In the Academics Section, click the Enroll link
If prompted, select the correct term and click CONTINUE
Students can find a summary of the textbooks they need in their Student Center.
Log in to the Student Center
Click the Enroll link in the Academics section
Open my class schedule sub-tab
Click the View Textbook Summary link
Students can order textbooks and course materials online at the SFSU Bookstore with free shipping to the campus bookstore or with a shipping fee for home delivery. Students may also purchase textbooks in person at the campus bookstore.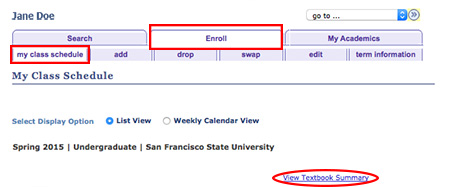 Potential students can check their application status to the university in the Admissions section of their Student Center.