Your Questions Answered
Gathered below are some frequently asked questions to give you more detailed information about Undergraduate Graduation applications, review processes, diplomas, and more. If you still can't find an answer to your question, please email regweb@sfsu.edu or call us at (415) 338-2350.
What are graduation eligibility requirements?
To be eligible to apply for either Summer or Spring graduation, a student must have completed a minimum of 90 units.
To be eligible to apply for Fall graduation, a student must have a combined minimum of 90 units - including completed and in-progress units.
Consult the Submission Dates table to determine when we will begin accepting applications for your intended graduation term. If you are not a matriculated student, don't hesitate to contact the Advising Center to review your degree progress.
Priority Application Periods

| Graduation Term | Priority Application Period Opens | Priority Application Period Closes |
| --- | --- | --- |
| Summer | Every February 1 | First Friday in March |
| Fall | Every March 1 | First Friday in April |
| Spring | Every September 1 | Third Friday in October |
Don't see a Graduation Fee Yet?
Charges are posted after you submit your online intent. If the charge does not appear, please contact the Bursar's Office.
Can I apply after the deadline?
You may submit your application until the end of the term for which you are applying. However, we encourage you to apply during the priority period to avoid the $5 late fee so we can provide ongoing, timely feedback about your degree completion.
Please Note: To have your name and degree included in the annual commencement ceremony program, we must receive your application by April 1.
Can I attend classes after graduation?
Once you apply to graduate, you cannot enroll in classes after your expected graduation term. If you want to continue to take courses after your degree is awarded, you will need to apply for readmission to the University as a graduate or post-baccalaureate student (see Graduate Admissions for more information) or take classes through Open University offered by the College Extended Learning.
How do I apply for multiple majors or minors?
Any major or minor program plan listed on the Degree Progress Report (DPR) at the time of applying to graduate will be the basis for the DPR graduation review and must have their program requirements met by the end of the expected graduation term.
Note: baccalaureate and post-baccalaureate degrees can only be pursued concurrently by students in the SF State Scholars Program.
Degree plan change note
If you have already applied but need to change your major or minor, please email regweb@sfsu.edu.
Graduation with Honors
Honors are granted with the Bachelor of Arts, Bachelor of Music, and Bachelor of Science. For students who entered the University beginning fall of 1996, honors are based on the cumulative GPA at the time of graduation (across all units attempted, whether in residence or transferred from other institutions). The cumulative GPA is listed as the "Overall GPA" on a student's Degree Progress Report. 
What happens after I apply?
Contact
If you have unfulfilled DPR requirements, or ANY unresolved grades (RDs), you will receive an email notifying you to review your DPR before your final Graduation Term. If the issue remains unresolved or your application is not moved or withdrawn, additional notices will be emailed.
At the end of finals, emails notify students of graduation review time frames, and final decision emails will be sent. Please always check your SF State Student Email for emails from our office or your assigned graduation evaluator.
Complete your Final Term - Expected Graduation Term
We will conduct a final review of your academic record after grades are available for your intended semester of graduation. It's essential to consult with your advisor before dropping or withdrawing from any classes in your final term, as this may impact your graduation readiness. It's also a good idea to consult your advisor if you are concerned about passing or meeting the minimum grade required in your classes.
Final Review - Up to 10 Weeks after Semester Grades are Officially Posted
Once grades have been posted for your final term, we conduct a final review to ensure all degree requirements have been met.
We work as quickly as possible during this period because we understand how significant your degree is for your future plans! However, due to the volume of applications submitted, it can take up to ten weeks for applications to be reviewed.
We always communicate with you during this period by sending an email to your SFSU email account. In addition, we will email you if there are any questions or potential issues with your application. And finally, we always send you an email at this address when your degree has been posted.
What if my DPR shows outstanding grades or unmet requirements?
Resolve unmet requirements and outstanding grades by the end of your expected graduation term (no later than two weeks after the date of graduation). Use your Degree Progress Report to identify items listed in the table below (red box).
Unmet Requirements

Issue
Explanation
Solution

Incomplete Grades - I
Report Delayed Grades - RD
In Progress Classes - IP and Transfer Work In Progress

Resolve the listed issues by the Grades Processed (End of Term) date. Applications with standing Incomplete (I) grades, Report Delayed (RD) grades, and In Progress classes and Transfer Work in Progress will not pass a graduation review.
Please work with your professor/department chair to clear up all Incomplete (I) and Report Delayed (RD) grades. And make sure to submit transcripts for transfer work as soon as they are available.
What if I need to file for a grade change?
Because grade changes are not permitted after the award of your degree, it is very important to review your transcripts.
Grade changes may be approved due to administrative error, but a request must be made within one semester of graduation.
What if I have study abroad grades?
If you are planning to study abroad during your senior year, it's important to prepare your graduation plan before you leave. The translation of study abroad coursework is complex, and processing time can vary by the host institution. In some cases, it can take up to two semesters for coursework to be translated.
Spring and Summer degree candidates are still eligible to attend the May commencement ceremony despite the anticipated delay in transcript processing.
Transfer Work & Other Document Deadlines

| Semester | Deadline |
| --- | --- |
| Spring | Last Friday of June |
| Summer | Last Friday of September |
| Fall | Last Friday of January |
Admissions Mailing Info
Send by Mail:
Attn: Undergraduate Admissions 
San Francisco State University 
1600 Holloway Ave. 
San Francisco, CA 94132 
Send Electronically:
If the transfer institution offers electronic transcripts, please follow their online instructions.  
What if my plans change?
If you won't meet graduation requirements by the end of your expected graduation term, or if you find that you need to postpone your graduation then it is important to keep us posted, once you apply to graduate, we won't assign a registration appointment for terms following your intended graduation. If your plans change, email us at regweb@sfsu.edu.
Digital Diplomas
Digital diplomas are available for students who earned their degree beginning of the Fall 2019 term and after. Undergraduates will receive both a traditional paper diploma and a free digital diploma. If the student needs to obtain a digital diploma who graduated prior to Fall 2019, then they must complete the replacement diploma request form and pay the diploma fee.
Parchment, SF State's diploma vendor, allows the University to provide a secure digital diploma that graduates can claim immediately upon degree conferral. This will enable graduates to present their digital diploma to employers with a secure and verified link while also sharing with family and friends on social media platforms such as Facebook and LinkedIn. Additionally, the digital diploma can serve as an alternative to an apostille certification, as many countries recognize digital diplomas issued securely from vendors like Parchment.
View & Download a Parchment Digital Diploma
You will be notified via email from Parchment once your digital diploma is available. Once you have received that email, you are able view your digital diploma online at any time with permanent access and download your digital diploma and save it as a PDF.
When are diplomas ordered?
Diplomas are ordered after an application goes through final processing. This final processing happens after official semester grades are released. Visit the semester Dates & Deadlines for exact dates.
How long does it take to receive a diploma after a degree is awarded?
Orders are placed weekly on Fridays, excluding holidays. It takes 2 to 4 weeks for printed diplomas to arrive; this does not include the 7 to 10 business days needed to process earned degrees or form requests.
Diploma Not Received?
If a diploma shipment is outside of the described receive time, review the below issues and solutions.
Receive Address: Diplomas are mailed to the diploma address on file; if none exist, then the mailing address is used. Orders made using the mail-in request form will go to the address provided on the form. To resolve, review your Student Center or confirm the address supplied on the request form. Then submit a Parchment Support Ticket.
Financial Obligation: An Obligation will prevent the processing of a diploma order. To resolve this issue, access your Student Center to clear the obligation, and then email records@sfsu.edu to notify us that the financial hold is clear.
How do I get a diploma cover?
Diploma covers are currently unavailable for pick up or delivery; they will be available during next year's May Commencement.
How do I request a duplicate or replacement diploma?
Requests are made with the Duplicate or Replacement Diploma Request Form. The form must be signed and mailed in with payment (check or money order) to the Registrar's Office, instructions and prices are listed on the form. Orders are placed weekly on Fridays, excluding holidays. It takes 2 to 4 weeks for printed diplomas to arrive; this does not include the 7 to 10 business days needed to process form requests.
Fee Breakdown

| Delivery Method | Unit Price | Est. Delivery Time |
| --- | --- | --- |
| Domestic Standard | $31.00 | 1 Month |
| Domestic Express | $65.00 | 3 weeks |
| International Standard | $40.00 | 1 Month |
| International Express | $125.00 | 3 weeks |
*Each order includes an eDiploma and an email to claim the eDiploma will be received 1 to 2 business days after the order is placed with Parchment.
Have a financial hold?
Financial holds will prevent diplomas from being ordered and mailed. Once all financial holds are cleared email records@sfsu.edu.
Fee Lookup Instruction
Open the Student Center
Navigate to your Finances section
Open the other financial... menu
Select Charges Due review your Summary of Charges and Details by Charge, then click Make a Payment to proceed.
Graduate Diploma Questions
The Registrar's Office only processes Undergraduate Graduation Applications and Baccalaureate Degrees. For more information on a Master's degree or Graduate Degree applications please visit the Graduate Studies site.
Will my diploma reflect my concentration or emphasis within my major?
Your diploma will reflect your major as well as your area(s) of concentration. Your diploma will not reflect any emphasis you have chosen.
Will my diploma reflect university honors or scholastic distinctions, if earned?
Diplomas reflect university honors (cum laude, magna cum laude, or summa cum laude) for undergraduate degrees. They do not reflect departmental honors and university honors are not granted to graduate degrees.
University Honors Breakdown
A student whose GPA is 3.50 – 3.69 shall graduate cum laude.
A student whose GPA is 3.70 – 3.84 shall graduate magna cum laude.
A student whose GPA is 3.85 or greater shall graduate summa cum laude
Diploma Name & Address
If a diploma name is not specified then the first, middle, last name, and any suffix will appear on the diploma as it is recorded in the Student Center record (preferred name is not used). An email is sent out asking for verification of the diploma name and address when graduation is approved.
Open the Student Center
Navigate to your Personal Information section
Select either the Names or Addresses links
Edit, add, or verify your Diploma Name and Address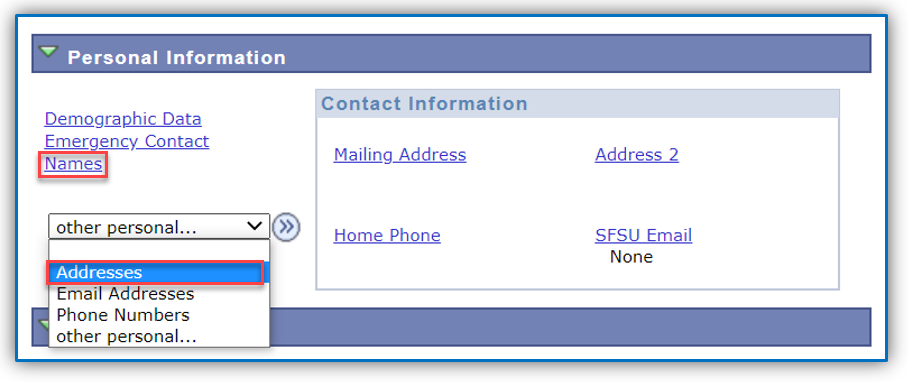 SF State has a yearly commencement that is held in late May.  For more information please go to SF State's Commencement site.
Since we are unable to use your DPR to verify your major or minor is complete, please take one or both of these forms (as appropriate) to your departmental advisor to fill out on your behalf. Once the form is filled out and approved by the advisor, the advisor must send it to your graduation evaluator by emailing directly from the advisor's official SF State employee's email account to regweb@sfsu.edu.
Directions are at the bottom of each form.